CAMISETAS 100% ECOLÓGICAS
Todas nuestras prendas han sido fabricadas con materiales reciclados al 100%
A continuación detallamos el proceso: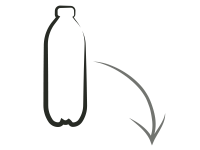 Los restos de algodón orgánico se trituran y vuelven a ser fibras de algodón muy suaves.
Las fibras de algodón se mezclan con fibras provenientes de botellas de plástico recicladas, para obtener la mezcla de algodón y poliester.
La mezcla de fibras se convierte en un hilo fino, con el que se tejen las nuevas telas.
Finalmente, se producen las camisetas con cuidado para crear un producto de alta calidad.
Todas nuestras prendas se amparan bajo los siguientes sellos de calidad:
Fair Wear Foundation (FWF)
The Fair Wear Foundation (FWF) is a multi-stakeholder initiative supported by business unions, textile associations, trade unions and non-governmental organizations (NGOs). By acting as an independent monitoring body, the FWF verifies whether the measures taken by member companies to improve working conditions in the supply chain are effective and consistent. The FWF is the strictest control organization in the field of monitoring the working conditions of ancillary enterprises.
Global Recycle Standard (GRS) </ strong> </ h5>
Global Recycled Standard </ strong> is designed for companies that manufacture or sell products containing recycled content. The standard covers the entire supply chain and takes into account traceability, environmental aspects, social responsibility and labeling. Although developed for the textile industry, GRS can also be applied to products from any sector.
Organic Content Standard (OCS)
Organic Content Standard Is used for products containing a minimum of 5% of organic material mixed with conventional or synthetic raw materials.